DESCRIPTION
Embark on a wild adventure set in the midst of a rebellion against a totalitarian regime in this new take of the cinematic platformer. LUNARK is a 2D cinematic platformer in the vein of the '80s and '90s classics. Run, jump, hang, climb, roll, and shoot your way through mysterious alien ruins, a flying penitentiary, a high-tech megalopolis, and a majestic forest.

Story:
As Earth became inhospitable, NOAH, an artificial intelligence whose sole purpose was to preserve humanity, was created. NOAH chose the Moon as humanity's Ark - renamed LUNARK - using it as a ship to evacuate a handful of chosen ones to the nearest superhabitable planet. Unfortunately, whether the planet was inhabited or not was not part of NOAH's programming...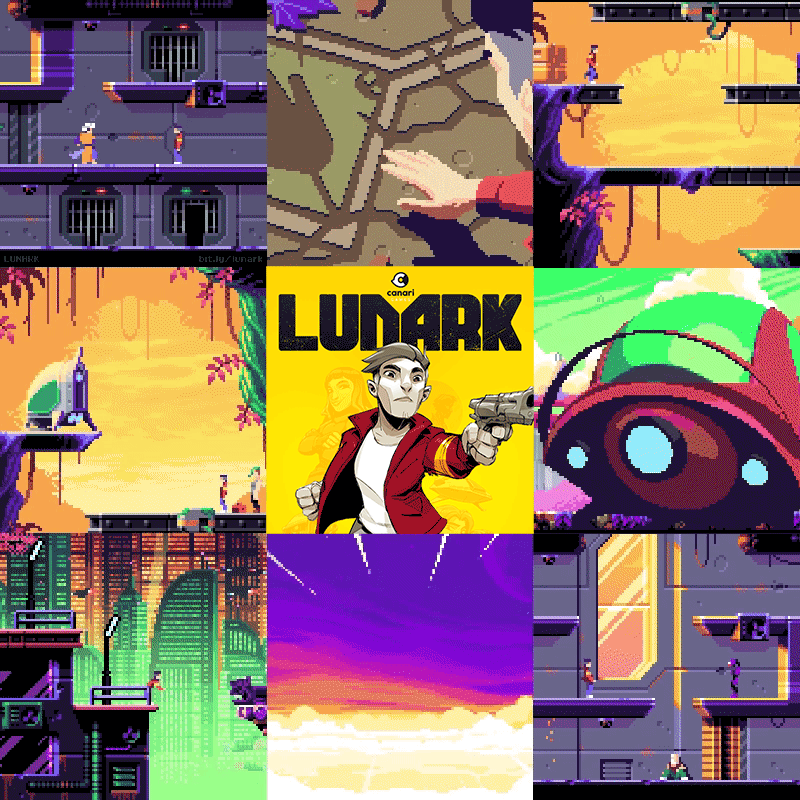 Features:
Top tier pixel-art with a vibrant artistic direction.
An epic story that pays tribute to classic adventure movies.
Exciting level design, thrilling gun fights, puzzle solving, secret paths to unveil.
Incredibly smooth animations and rotoscoped cinematics.
Generous saving system perfect for short play sessions.

A successful Kickstarter with 2800+ supporters!  
My name is Johan Vinet. I grew up in France and live in Montreal. I've contributed to a dozen games such as Flinthook, Halfway, Shovel Knight Showdown, Adventure Time, Mercenary Kings Reloaded and Rivals of Aether.
In 2018, I decided to create my own solo-studio: Canari Games. Thanks to a successful crowdfunding campaign, I'm now working full time on this very personal project. I got the support incredible people including Fumito Ueda and Jordan Mechner!